TECNICA INDUSTRIALE, during its 50 years of activity, has developed high technical skills in the complete repair and revamping of a wide range of gearboxes and gearmotors (planetary, right angle, worm screw, parallel axes gearboxes etc…)
The experience gained in the design of mechanical transmissions allows us to offer a pumps and gearboxes remanufacturing service intended for both plants manufacturers / technicians and end users. TECNICA INDUSTRIALE, in collaboration with the technical offices of the most important manufacturers of gear motors, designs and repairs every type of gearbox and mechanical transmission and provides tailor-made solutions for every need of its customers.
OUR SERVICES
Inspection at the customer and collection of information on the gearbox

Gearbox transport at our workshops

Visual analysis of the gearbox components wear

Disassembling of the gearbox and turning of bearings and gears

Replacement of damaged components

Replacement of bearings and sealing rings

Cleaning and painting of the case with oil-proof paint

Cleaning and eventual rectification of gears and shafts

Assembly, testing and external painting

Gearboxes remanufacturing is a service dedicated to all those customers who reuse machines that have already worked for a number of years, but which are still operational and functional to the purpose.
The revision guarantees the customer the complete restoration of the gearbox operation with the replacement of some fundamental components.
MISSION
Restore the original operating conditions of the gearbox

Avoid the purchase of a new gearbox to the customer

Extend the lifetime of the machine or system
The remanufacturing is carried out with the complete disassembly of the gearbox; after the analysis all the worn components are replaced: bearings, gears, gaskets / seals or other damaged mechanical parts that are redesigned and remanufactured in case they are not commercially available. Finally, after the assembly of the gearbox, the final test is performed to check its efficiency and operation (any noise, leaks, etc.).
Lubricant replacement on gear reducers
We revamp gearboxes of the following brands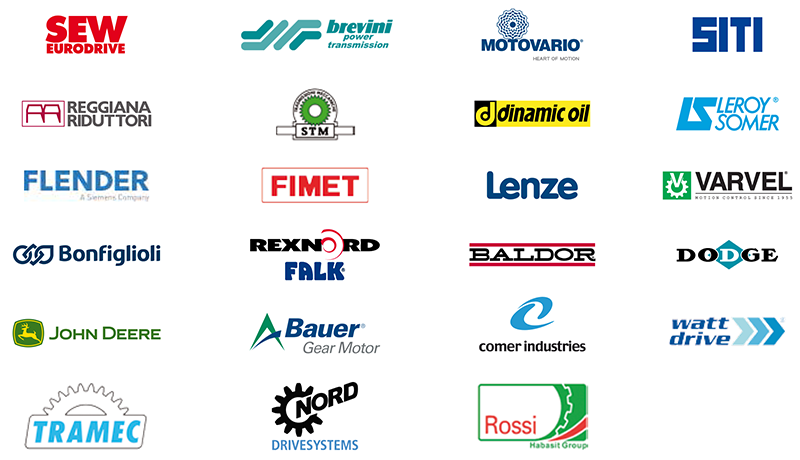 Contact us now – We are at your disposal